Preparations for Asian Para Games gather pace
Hangzhou 2022 celebrates 500 days to go
ⒸHangzhou 2022 / Asian Paralympic Committee
By Asian Paralympic Committee
The 2nd Coordination Commission meeting for the Hangzhou 2022 Asian Para Games was held virtually on May 27-28, marking the end of a series of successful 500-days-to go countdown celebrations for the Games scheduled from October 9-15, 2022.
A total of 25 delegates from the Hangzhou 2022 Asian Para Games Organising Committee (HAPGOC), China Disabled Persons' Federation (CDPF), Hangzhou Municipal government and Asian Paralympic Committee (APC) attended the two-day CoCom meet that was aimed at learning the progress of the Games preparations.
Detailed reports on various functional areas including venue and Games Village construction, accreditation, transportation, media and marketing, IT solutions etc were presented, showing the organisers' readiness to host the Games in the region.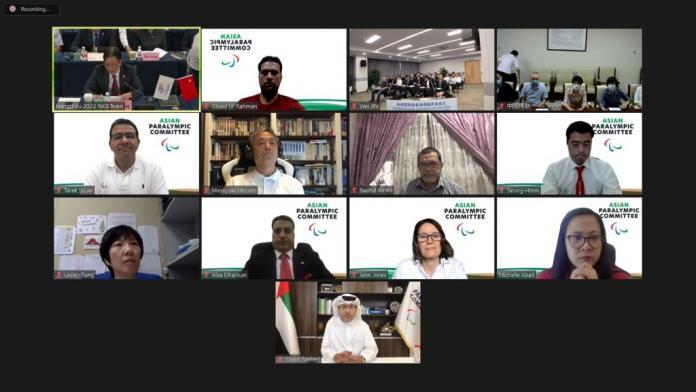 In his opening speech, APC President Majid Rashed said, "In this challenging time of the pandemic, it is important to have hope for future and these Games are giving us that hope. They will be a joyful celebration of the human spirit as athletes from all over the region come together to show just what is possible with courage, determination and solidarity.
"We are very pleased with the progress in the preparations. The organising committee have put in a lot of effort and their dedication is highly appreciated. My best wishes to the Hangzhou 2022 Organising Committee for the next phase of preparation and we look forward to hopefully visiting them in person soon."
Among other distinguished names present at the meeting were Chen Weiqiang, Deputy Secretary General of HAPGOC and Vice Mayor of Hangzhou; CDPF President Zhang Haidi and Mao Genhong, Deputy Secretary General of HAPGOC and Hangzhou Municipal Government, among others.
19 venues for APG 2022
The organisers stated that 19 venues, including 17 used for the Asian Games, will be used for the Asian Para Games, with all but cycling taking place within the city of Hangzhou. 616 events will be competed across 22 sports and 4,000 athletes are expected to take part.
Cultural activities to build excitement
To build excitement in the lead-up to both the Asian Games and Asian Para Games, HAPGOC, Zhejiang Provincial Disabled Persons' Federation and Hangzhou Municipal Disabled Persons' Federation jointly held a 500-day countdown celebration at the Hangzhou Municipal Workers' Cultural Centre on May 14.
The highlight of the event was the cultural performances by a group of physically challenged performers, with attendance of Weiqiang.
On the day, a wheelchair racing event named 'Join Hands and Welcome Hangzhou 2022' was also held for the physically disabled residents by Association of Persons with Physical Disabilities in Jiande, Zhejiang.
"It is a unique opportunity and fun to take part in a competition like this, that also has so many people," said one racer. "I hope that we can have more of these kinds of activities in future."
The 10th Global Accessibility Awareness Day was also celebrated on May 20, with 'For the Asian Para Games, accessibility counts' as the theme of the event.
Asian Para Games-themed Sports Day
On May 25, the Gongshu District, Hangzhou, held an Asian Para Games-themed Sports Day. The day saw a range of sports activities held for disabled persons, featuring both individual games and team sports. Alongside these events, a Hangzhou Asian Para Games promotions booth was also set up on site giving the general public a taste of the what to expect at the Games in 2022.